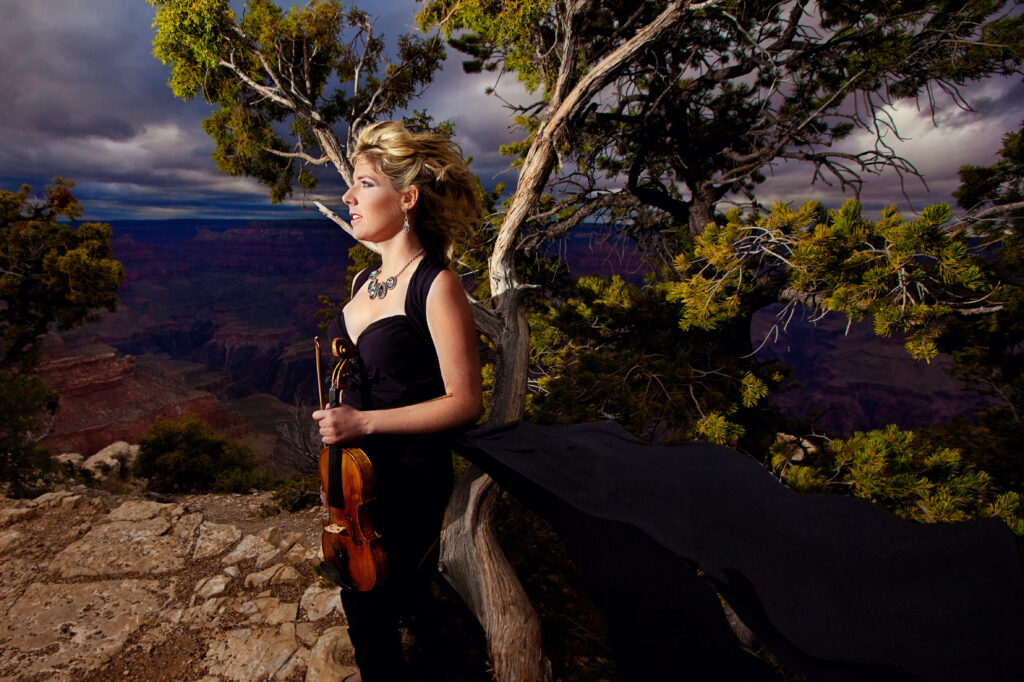 About Vanessa
A versatile musician, Vanessa combines years of formal classical training (Butler University, University of Nevada, Reno), with effortless charisma and rare artistic fluidity. Transitioning seamlessly from the classical and folk repertoires, she is as capable and captivating a fiddler and improvisor (www.fiddlers2.com) as she is an interpreter of the greatest works of Western Classical music. Her performances are, in a word, serendipity.
Vanessa has performed to rave reviews in over thirty house concerts and recitals in northern Nevada, northern California, and the East Coast, including a multimedia performance of Beethoven's complete violin sonata cycle, streamed live via the Internet to her ever – expanding, international fan base.
Vanessa has participated in several music festivals including the National Repertory Orchestra in Colorado and the Sunriver Music Festival in Oregon. As an orchestral musician, she has performed with many orchestras including the Indianapolis Symphony, the Indianapolis Chamber Orchestra, the Reno Philharmonic, Reno Chamber Orchestra, Monterey Symphony and the Fresno Philharmonic.
She has always been passionate about teaching and loves connecting with young people through music. Vanessa has been teaching violin lessons for 24 years and has built large studios in Indiana and Nevada as well as creating and directing the annual Reno Violin Camp and Audition Boot Camps, helping students prepare for youth orchestra auditions.
Apart from her demanding performance and teaching schedule, Vanessa remains a tireless supporter of the arts. She is always putting together creative projects. Currently, these include performing and recording with her band Fiddlers2, learning and performing the entire Mozart violin sonata cycle, and of course the National Parks Commissioning project.
With Reno as her base, in her spare time Vanessa enjoys driving scenic roads, visiting National parks, and hiking in the beautiful Sierra Nevada mountains.
Fiddlers 2
Holly Sternberg & Vanessa Porter form the fiddle duo Fiddlers2. Get your foot tapping to their latest cd of Scottish Tunes or maybe even host a house concert on their next house concert tour!
Road Trip Travel Blog
Visit Vanessa's travel blog and sign up for her podcast episodes & videos. Be inspired by incredible scenic vistas, historic National Parks, twisty roads and fast cars.
National Parks Project
Learn about Vanessa's National Park commissioning and music video project. She is excited to add new and beautiful pieces to the violin recital repertoire and at the same film videos in all the parks!
"Live for the moments that take your breath away." ~Anonymous