Working with the Carlsbad music video crew from New Mexico was a pleasure. We had a lot of Zoom meetings in the months leading up to filming at Carlsbad Caverns in October of 2021. During those meetings, we went through a bunch of different ideas, came up with a story script to follow, and went through a great deal of outfit iterations before we settled on the final outfits. We didn't overlook a detail when it came to visually representing this music inspired by nature.
When I arrived at Carlsbad Caverns National Park for filming it was the first time I had been to that park! It's a beautiful place – hushed (because everyone has to speak in whispers or not at all), and awe-inspiring.
Here's how we combined two of my favorite things – music and nature – while filming "Carlsbad" by Lon Chaffin.
Two Days in Carlsbad Caverns National Park

How did filming at Carlsbad Caverns National Park go? We filmed everything in two very fun but long days. As a professional violinist, it came with some unique challenges.
On the first day, we planned to eat lunch at the park but discovered that it required 30 minutes of walking each way to the eating area. In other words, an hour of wasted time and having to schlepp all of our stuff.
So, we decided to skip lunch. Man, were we hungry by the time we made it out in the evening to the closest BBQ place we could find, 40 minutes into town! The next day, we were smart and packed a lunch, taking the time to eat it.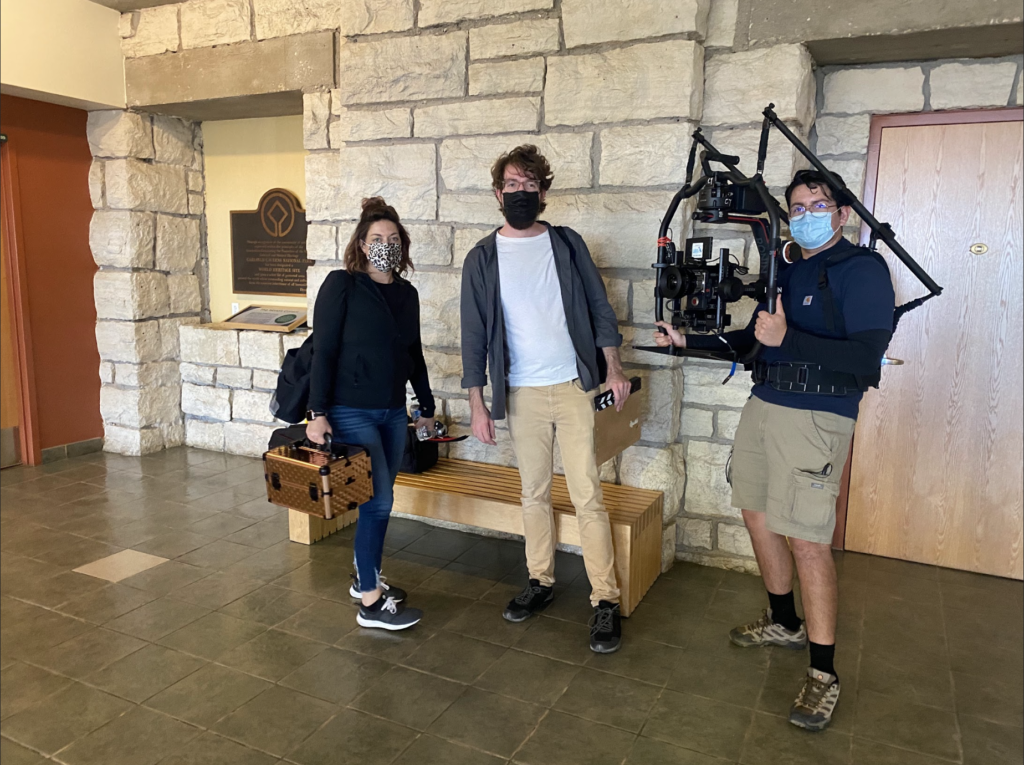 During the first day of filming, I wore a long emerald (looks blue in the photo!) evening gown. I remember thinking when I bought it that the slit going all the way up to my waist was a bit unnecessary. But as the video crew strapped the little audio box to my leg, I realized the slit was a godsend. Honestly, it would have been a pain without it.
With the slit in the dress, I was able to take the audio box on and off without lifting the entire voluminous skirt (yards and yards of material). I could just "open the curtain" and close it back up … like I planned it or something! Actually, I think I would have cut a slit if it wasn't there already.
The Technical Difficulties of Outdoor Filming

Imagine with me for a minute having the little black box/audio player strapped to my upper leg, a cord running from the box under my dress, up my back to my ear so I could play along with the audio.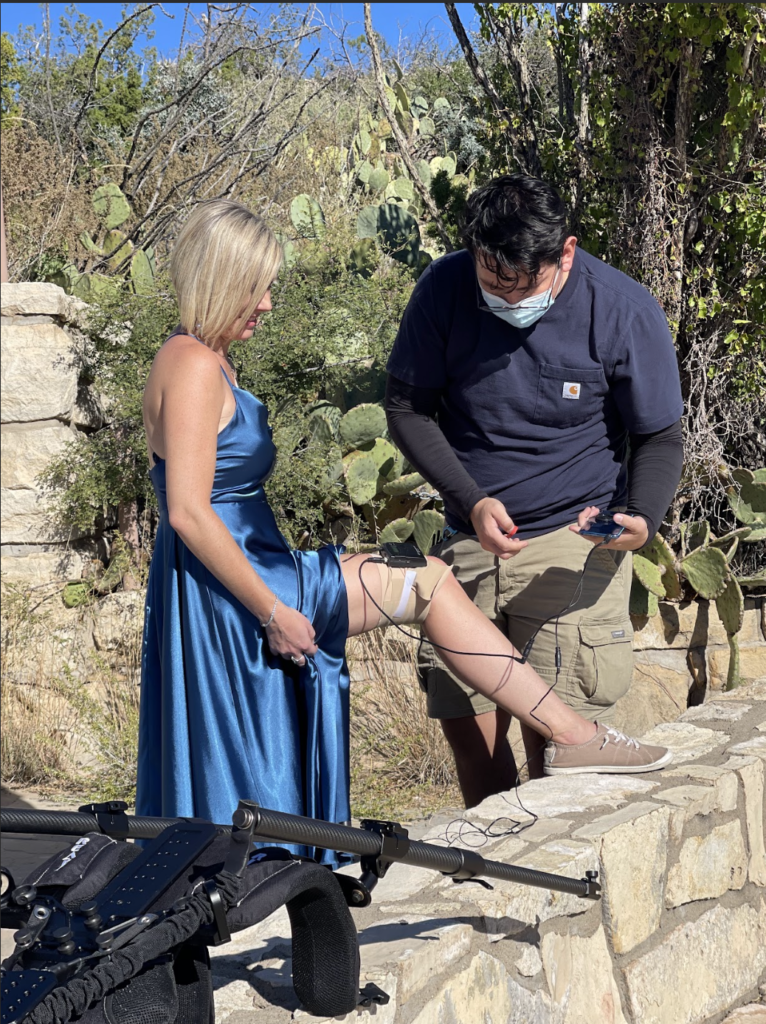 Then another cord connected from the box to the camera that Luis was carrying and then a cord to the phone that Alex was using to control starting, stopping, and volume.
We were all three connected to the little box on my leg (there's a fancy word for it I'm sure … maybe transmitter …? Don't quote me on that one … I learned and forgot a lot of new words on our filming adventure).
And of course, having to play the violin without knocking any of the cords out of place was an adventure, too!
Nature Sounds

In terms of the technical side of things, this is how our first day went. The video crew would pick a spot, we would set up, and then we'd film a couple of minutes in each spot.
Most of the time was spent trying to stay out of the way of people passing us. This could be surprisingly tricky in some of the smaller pathway areas.
Then we'd pack everything and move. For me, this involved taking off my heels, putting on walking shoes, putting my violin back in its case (to keep it safe from my klutziness in a long dress and uneven path) and putting on a hoodie … because it was cold.
Next, we'd walk to the next spot, sometimes not far from the last. I'd put my heels back on, take off the hoodie, get the violin out, wait for people to pass, and start filming again. And all of this was done VERY quietly because no noise was allowed … only nature sounds.
The Quietest Music Video … Ever!

Thinking back, it was quite possibly the quietest music video filming that's ever been done, haha! But I guess that's fitting when you're filming nature music? My violin didn't make any sound when I played! (Find out more about how I played without making a sound.)
And check out social media for some pics and videos of the whole process. If you're really excited about the project, you can also become a patron and have access to some serious behind-the-scenes exclusive pictures and videos, among other perks.
The second day in my "explorer" outfit was sooo much easier – no cords, no heels, and no violin to worry about. I did notice, however, that the people we bumped into who were visiting the caverns weren't thrilled and sometimes downright annoyed (even though we were bending over backward to stay out of everyone's way). I personally think the outfit made the difference.
The day before, in the dress with the violin, everyone thought the project/music video thing was cool, and we had a bunch of good (if quiet) interactions.
But in the explorer outfit without the violin? I'm not sure what the park visitors thought we were doing, but some definitely felt that we were in the way. The vibe from the visitors was not the greatest on the second day. But the park rangers remained amazing the whole time. They told us that it was the first time there'd been a film crew down there since the park opened!
Music and Nature: Post-Editing in Los Angeles

Later, in 2022, I flew to Los Angeles for post-editing of this National Park Compositions video with Jacob Donohue. Everything was set and ready to go except the bow and audio didn't match like I wanted them to. I wasn't really going for the old-school movies where the violinist plays with their bow two inches above the strings, haha!
Jacob was extremely patient with me as I made sure, as much as possible, that the bows matched. An added perk of my two days in Los Angeles? Hanging out with my cousin Desiree!
And then, voila, the video was done and ready to share … or was it?! It's been quite the process…
Let's do a quick recap here. In 2015, I had a brand-new piece and a brand-new vision and I took it and ran … well almost … More like hobbled since I was funding the whole project on my own.
Professionally recording the piece, hiring a video crew, and filming in the park turned out to be a lot pricier than I could have imagined! But I made it happen. Six years later, it was finished from beginning to end. And then it took me another two years to package it all up and present it to you as I am so happy to do now!
"Carlsbad" by Lon Chaffin

Although to be fair, (I've been recently working on giving myself more credit instead of focusing on everything I haven't finished yet), because in that same eight-year period (2015 until now), I also finished the Indiana Dunes National Park from start to finish. Glacier is almost done, and Sequoia has begun. Clearly, I can't get enough of music and nature.
Not to mention teaching a full studio of violin students, performing and recording two fiddle albums with Holly in our group Fiddlers2, playing orchestra gigs with the Reno Philharmonic and Reno Chamber Orchestra, performing the 16 Mozart Sonatas at my house for friends and students, and driving the scenic roads in six different states.
And I believe there was a worldwide pandemic somewhere in there too, haha. Wow…reading this makes me think that maybe all the people who call me crazy aren't necessarily off the mark! What do you think?
Carlsbad was the first park to be finished from beginning to end, and I'm so excited to share the details with you. This includes sheet music, audio recording, behind-the-scenes pictures, and video. Of course, we'll finish up with the final national park music video, all in the weeks ahead … stay tuned! Get the news before it's news by becoming a Patron today!